Ayumi Hamasaki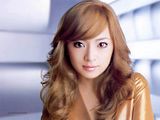 Ayumi Hamasaki (浜崎あゆみ, Hamasaki Ayumi, born October 2, 1978) is a Japanese pop singer. Commonly known just as Ayu, Ayumi Hamasaki is one of the most popular and influential Japanese pop singers in Japanese music history, and is dubbed "The Empress of J-Pop". She was born and raised in Fukuoka and moved to Tokyo to pursue a career in the entertainment industry. Since her debut in 1998 with her first single "poker face," she has sold more than 50 million records, with the releases of her eight full-length studio albums, one mini-album, four compilation albums, 40 singles, and several non-studio albums, being the top selling solo and female artist and the fourth top selling Japanese artist in the history of Japan. With the release of her 40th single "Blue Bird," Hamasaki's single sales have passed the 20 million mark, making her the first solo and female singer to do so.

With the release of her 39th single "Startin' / Born to be..." in 2006, Hamasaki became the first female singer to have 27 #1 singles (the most #1 singles a Japanese female artist has ever achieved) and 38 singles in the Top 10 of the Japanese Oricon charts. She has 15 consecutive #1 singles to date (starting from "Free & Easy"). Hamasaki is also the first Japanese artist to have her first original eight studio albums top the charts.
Ayumi has also won the Grand Prix at the Japan Record Taishou (the Japanese equivalent of the Grammys) three times in a row, from 2001–2003. She refused to be nominated in 2004 due to the Avex-Matsuura incident. Ayumi Hamasaki no longer accepts awards given at the Japan Record Taishou and those similar to the awards.

Labels: Ayumi Hamasaki